EYES SCHOOL-BASED PROGRAM
EYES (Early Youth Employment Services) is an innovative program supporting students with disabilities age 14 to 21 in school settings. Tommy Nobis Center partners with local schools to provide customized curriculum from trained vocational counselors, including lessons on job readiness, communication, and general life skills. EYES is offered over multiple weeks to provide pre-vocational training and education. Tommy Nobis Center proudly served schools across all Metro-Atlanta areas including Cobb County, Fulton County, Atlanta Public Schools, Paulding County, Cherokee County, Forsyth County, and more.
EYES SUMMER AND SCHOOL BREAK PROGRAM
EYES Summer and School Break Program is offered both on-site at Tommy Nobis Center as well off-site within Metro Atlanta. The program includes career exploration, field trips, vocational demonstrations, guest speakers, and opportunities for hands-on real work experience. Interactive classroom activities reinforce job readiness skills in a practical way. All Summer and School Break Sessions follow the GROW (Getting Ready for Opportunities to Work) model including a focus on Self-Advocacy, Work Readiness Training, Job Exploration, Work Based Learning, and Counseling on Post-Secondary opportunities.

ConNect is an initiative to connect families of youth with disabilities. This is an enhancement of our EYES program offering social events, group outings/activities, parent support, and family education throughout the year in the hopes that our youth will make lasting friendships. ConNect activities are open to youth ages 14-21 who are eligible to receive EYES Services, and their families.
Some outings may be limited in numbers so early registration is encouraged. Outings and activities will be at no cost to our youth and families, but we suggest students/families have some funds if they choose to purchase food/drinks and/or souvenirs. Volunteers are welcome.
EYES REPORT CARD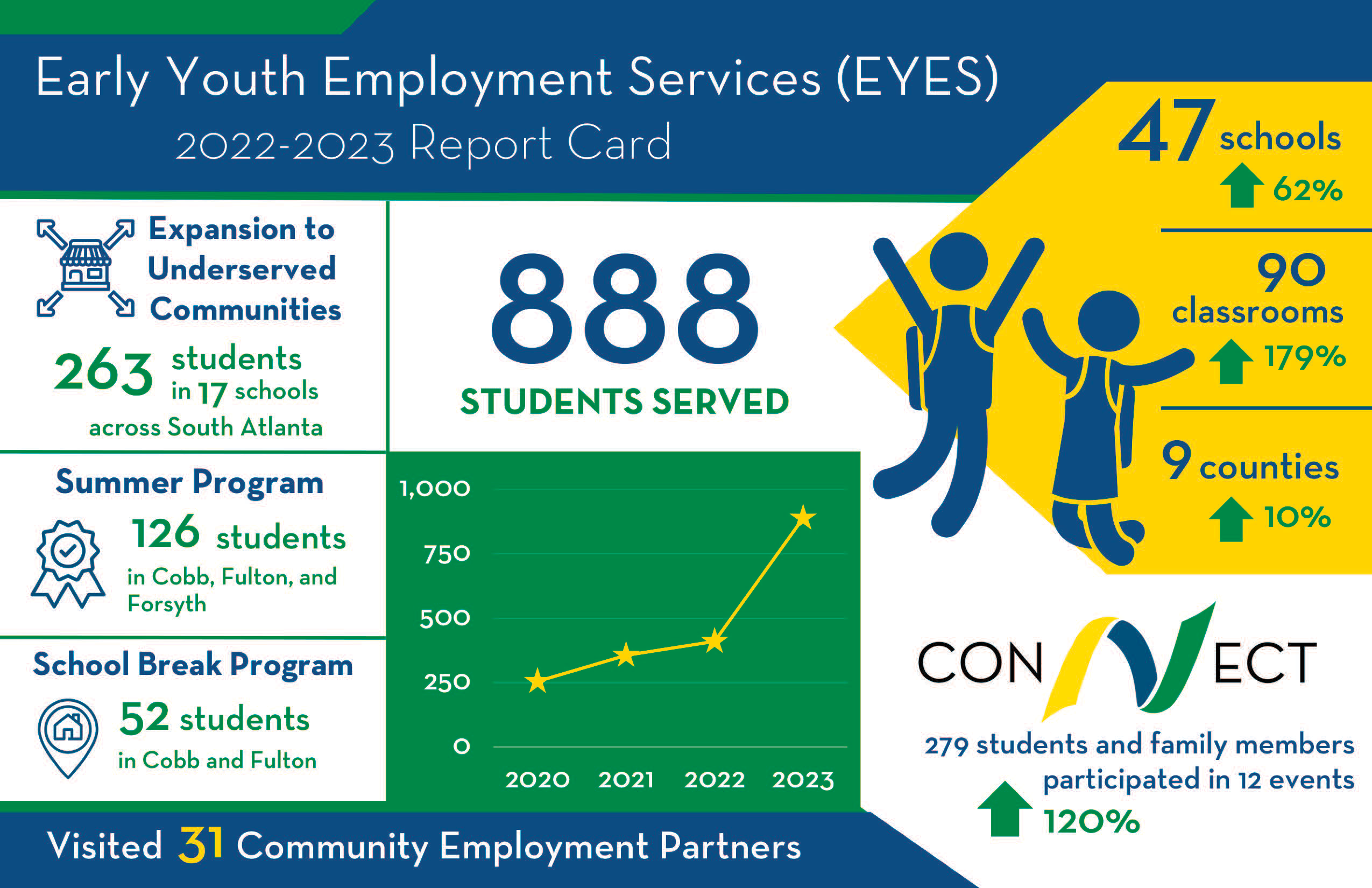 For more information on this service, please contact us by phone at 770-427-9000 or through our online contact form.
THANK YOU TO OUR EYES SUPPORTERS