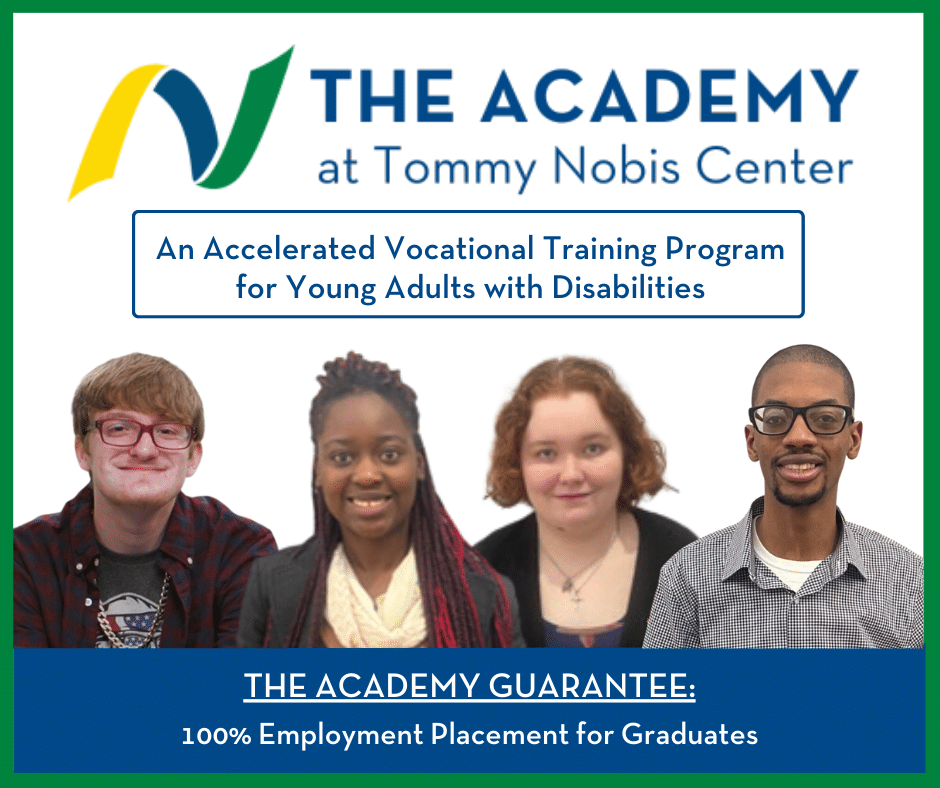 Please join us for The Academy Town Hall
Wednesday, October 18, 6pm
1480 Bells Ferry Rd, Marietta 30066
The Academy Overview
Virtual Town Hall
What is The Academy?
The Academy is an Accelerated Vocational Training Program that will provide the education, training, and life skills young adults with disabilities need for successful employment in today's world.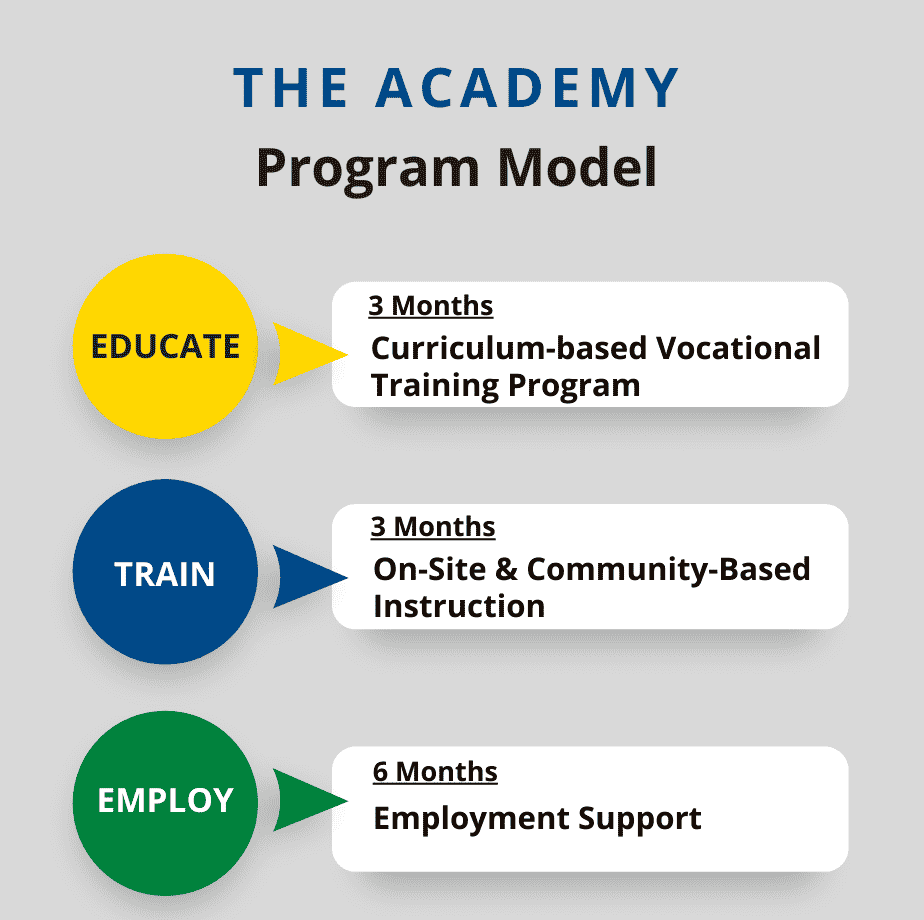 The Academy Guarantee:
100% Employment Placement for Graduates
We are so confident that this program will be successful in educating, training, and employing young adults that we guarantee every participant who successfully completes the program will find employment.
How can we guarantee employment? Tommy Nobis Center has been empowering people through employment for 45 years. We know what training and support young people with disabilities need to be successful in the workplace, and we know how to provide it. We are well connected with local and national businesses and government agencies that trust TNC to prepare and provide the employees they need.
Program Model
The Academy will offer accelerated vocational education and training on life skills and job readiness.
EDUCATE: Three months of curriculum-based vocational training. Topics will include life skills, social skills for employment, self-advocacy, vocational skills, confidence, communication, and more! Instruction will take place in the classroom and in the community.
TRAIN: Three-month internship that will include on-site and community-based instruction. Participants will be able to explore specific career pathways and learn about targeted vocational topics.
EMPLOY: Six months of specialized employment support to ensure success. All participants who complete the program will be guaranteed employment.
HOW STUDENTS BENEFIT
Immersive vocational education, training, and employment
Training on workplace readiness and self-advocacy
Education on life skills to support the development of successful, contributing citizens
Experiential learning that helps build confidence
Training both on-site and in the community to prepare students for employment
HOW THE COMMUNITY BENEFITS
More employed individuals contributing to the local economy
Greater justice and equality rooted in opportunities for all
Solutions for employers seeking skilled, qualified workers
Support for employers' Diversity, Equity, and Inclusion goals
Admission Criteria
Tommy Nobis Center will offer multiple cohorts each year serving up to 15 students within each cohort of The Academy. All applicants will be assessed for enrollment based upon their ability to meet identified criteria including:
Young Adult with a disability
Have been served under Individuals with Disabilities Education Act (IDEA)
Ability to function independently for extended periods of time
Personal behavioral and emotional control
Desire and motivation to obtain employment
Must be willing to self-pay tuition and/or engage with alternative financial support options
Tommy Nobis Center will have an ongoing application for The Academy, whereby, students will have the opportunity to apply at any time within the year for future cohorts. With the submission of a completed application, students will be required to provide applicable required documentation as well as engage in an interview assessment to determine eligibility for The Academy.
Curriculum
The Academy will have four main standards for curriculum. Within each Standard, a myriad of subtopics will be covered to fully equip students with the knowledge needed to be successful in their future employment. Standards will be ongoing throughout the 3-month Educate Pillar to deliver a well-rounded vocational training experience.
Standard 1: Life Skills for successful employment
Standard 2: Social Skills for positive work interactions
Standard 3: Vocational Skills
Standard 4: Community-Based Integration
Frequently Asked Questions
Who Will Be Served by The Academy?
Young Adults with a disability such as autism, intellectual disability, traumatic brain injury, deafness or hearing impairment, blindness, developmental delays, emotional disturbances, specific learning disabilities, speech or language impairment, certain physical impairments, and more.
How Will Applications and Recruitment Work?
Tommy Nobis Center anticipates that the majority of applicants will be just out of high school. We will encourage students with disabilities who are nearing the end of high school to apply, as well as those who have attempted to enter the workforce on their own without success. The Academy will have a "rolling application;" there will not be a specific cutoff date during the year for applications. We will review applications constantly and accept qualified students into cohorts until a cohort is full.
Where Will The Academy Be Located?
The Academy will have state-of-the-art classrooms our students need and deserve. It will provide a post-secondary experience, but with the creative, accelerated programming and support only Tommy Nobis Center can provide. As of summer 2022, we are in the process of obtaining an appropriate site for The Academy. Tommy Nobis Center has planted its roots in Cobb County, Georgia, and will continue to serve the people of Metro Atlanta.