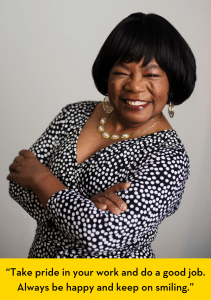 Regenia was born with an intellectual disability and grew up in a time when programs were less than adequate to assist her in a meaningful way. Her challenges were apparent throughout her entire education process.
When Regenia came to Tommy Nobis Center in 1982, she was looking for a job that would provide her with an opportunity to grow. Soon she was hired as a Nobis Enterprises janitorial employee at Dobbins Air Reserve Base. She became skilled at providing excellent customer service and became a beloved member of the team. Whatever was asked of her, she would always do without hesitation. Regenia loved her job and the independence she was able to enjoy.
For 37 years, Regenia thrived in her role at Dobbins. She was given the nickname "Smiley" by her supervisor and she became well-known as such throughout the facility. "Regenia strived to be the best she could be with her job and life itself," her supervisor said.
In 2020, Regenia was able to retire after a long and successful career. Now she spends her time enjoying her hobbies of gardening and fishing.