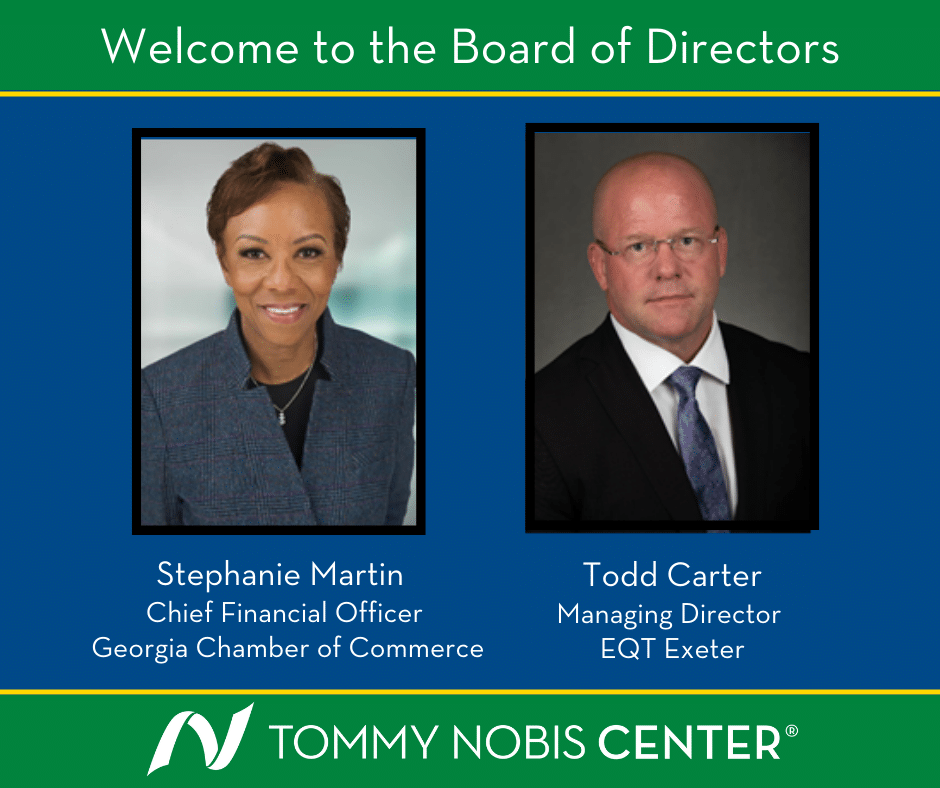 ---
October 16, 2023 – Tommy Nobis Center, a Marietta-based nonprofit that helps individuals with disabilities enter or return to employment, recently added Stephanie Martin and Todd Carter to their board of directors.

Stephanie Martin is Chief Financial Officer for the Georgia Chamber of Commerce. With more than 30 years of business experience, she has guided organizations through complex restructuring and capital improvement initiatives totaling over $40 million. Her diverse career experiences include for-profit, privately owned, and not-for-profit organizations. She possesses extensive knowledge of finance, strategy and operations that crosses multiple industries including waste, healthcare, telecom, and member based. She has her Master of Accounting degree from Kennesaw State University and Bachelor of Science degree in Financial Accounting from Winthrop University. Stephanie has previously served on the board of directors for Fun Time Early Childhood Academy and YMCA of Collier County.
Todd Carter is Managing Director for the Southeast Region for EQT Exeter. He is responsible for sourcing industrial investment opportunities and for leasing/asset management with a specific focus on Atlanta, Savannah, and Birmingham. He has 26 years of real estate experience. Before joining EQT Exeter in 2014, he was a Regional Vice President with DCT Industrial Trust for six years, where he was responsible for acquisitions and development, completing over 7.2 million square feet of lease transactions across the Southeast and Mid-Atlantic, with an emphasis on the company's 11.2 million square foot industrial portfolio in Atlanta and Nashville. He earned a BA in Finance from the University of Central Florida.
"I am excited to welcome Stephanie and Todd to our board of directors," says Dave Ward, President and CEO of Tommy Nobis Center. ""Each of them has demonstrated a passion for serving the community and they will be invaluable in helping us achieve our mission and change lives."

About Tommy Nobis Center
Since 1977, Tommy Nobis Center has helped thousands of people with disabilities find independence and workplace success by empowering people through employment. It envisions supportive communities where people with disabilities are afforded the opportunity to work. For more information, please visit https://tommynobiscenter.org/, or follow Tommy Nobis Center on Facebook, Twitter, Instagram, and LinkedIn.